k3rnel-pan1c.ksd keeps the intensity of the season premiere to help set the stage for the season.
There may not have been a lot of heavy plot development in this next episode of Mr. Robot, but it doesn't mean that Sam Esmail didn't push the audience to the limits. One of the biggest difficulties of the season, and possibly one of its greatest strengths, has to be the pure chaos of the episodes so far. In "eps2.1_k3rnel-pan1c.ksd," Esmail just cuts from scene to shocking scene without any concept of flow or continuity. It's purposely done purely to match the feeling of Elliot's schizophrenia, but even then sometimes it may just go a bit too far.
There is clearly an exploitation of the good will earned from last season, and I can understand why some viewers are put off by it. To me though, I think this purposed chaos is a refreshing departure from modern television's straight forward and predictable structure. Despite this, "eps2.1_k3rnel-pan1c.ksd" does manage to fit into its structure a healthy helping of flashbacks, background story on characters, and the general birth of fsociety as a whole.
Of course Esmail seems to be on a George RR Martin type rampage, where once you get some interesting insight into any character to the point you actually start to have an emotional connection with them, they seem to immediately get murdered. Romero's death, is quite shocking for a death that occurs off camera. Romero, in his own way, always seemed to be the moral compass of the group. He was definitely the driving force to keep fsociety from going to far out of control. But with his death, Darlene
The biggest questions of this season though, is who is in control and what is actually real. Elliot is already the definition of unreliable narrator, and we can't be sure that anything we see from his view is true. Clearly the kidnapping scene was nothing more than Mr. Robot forcing a mental image to vomit out all the adrenal, but the question still remains about if that is merely an inception level nesting of illusion for where Elliot really is. There is a growing consideration that Elliot might actually be in some type of mental facility or jail, and that everything that we see from his view is in fact an illusion.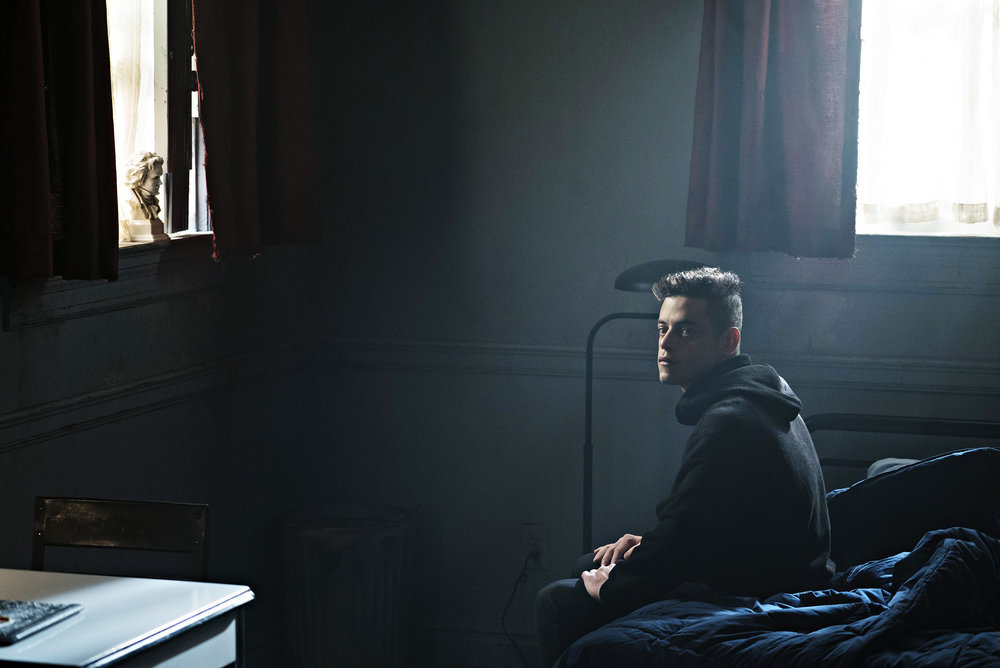 The main theme tonight, Elliot's eventual (current) mental breakdown from five days of no sleep, is brilliant cinematic display that pulls in themes of The Shining and The Matrix that works well to confuse the audience even further. It seems it was built explicitly for the fans of the show, and I'm sure the community is going to have a lot of fun dissecting those frames and clips one by one.
The other major point is a bit more into the character of Ray (Craig Robinson). I do hope that they expand more against Ray's character, because currently, his tone and demeanor is a little too similar to Fernando Vera from last season. The intense preaching and monologues combined with a truly sinister understood meaning is exciting to be sure, but I hope it's not just a repeated element from last season.
Overall, as the 3rd hour of the season, "eps2.1_k3rnel-pan1c.ksd" is pretty compelling story that weaves a web of chaos that a viewer just can't help but be dragged into and under.
Other Notes
Sam Esmail is pushed the Matrix theme quite a bit tonight with Elliot's nested views of reality, the ominous "Do yo have a moment Mr. Alderson?" and the breakdown of "reality" from Elliot's point of view. There were also constant scene glitches with him on camera.
The newspaper page Angela views is from the Italian newspaper Domenica del Corriere, 12 July 1914 by Achille Beltrame of the Assassination of Archduke Franz Ferdinand of Austria, the agreed spark that lead to the First World War and the generation of world instability that followed.
Is there blood on Elliot's table? Was that real blood on his bandage?
Amazon is the exclusive streaming partner for season 2, and had a lot of not subtle but semi brilliant Amazon Echo product placement.
Tonight's broadcast included the trailer of the upcoming movie Snowden. This is a bit beyond meta.
Ray's wife died somehow, likely in a car accident caused by another party.
It's unclear what Price's game is with Angela. Between the temptation, manipulation, and trying to teach her to rid herself of emotional ties it does have a big "Give in to your hate…join the dark side" vibe.
Is Agent Dom actually a FBI agent? She seems extremely concerned with seeing her name on the list. While she was in that initial interrogation, that doesn't mean she didn't hack her way into this field office and onto this investigation.
During Elliot's breakdown, his eyes were similar to the OS X beach ball of death crash icon.
The "U" in the "Fun Society" sign at the arcade was more intact than it is today.
When Elliot is able to go though the vomit to get the Adderall, the ending music of "The Truman Show" plays, which signifies the "escape of the illusion."
Does Ray also see his dead wife?
What Leon says backwards, which is a reference to the Seinfeld episode "The Betrayal"
Is Tyrell actually..around?
Music
Watch More Episodes