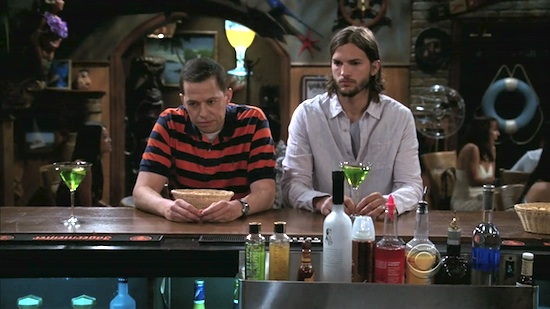 There were a lot of premieres on Monday night and it's hard to write about everything. There were a few season finales, and a bunch of new shows returning. Here's a recap of the what happened.
Two and a Half Men
Nice to Meet You, Walden Schmidt
After months of speculation, in what is most likely the most anticipated premiere of the evening, we finally get to meet Walden Schmidt, the reluctant successor to Charlie Harper. It seems that Mr. Schmidt is a bit of a mess himself, not unlike Charlie was. After a humorously morbid funeral filled with all of Charlie's exes all vying to spit on him one last time, we find Alan giving a heartfelt goodbye to his brother's ashes. On the verge of losing the place he called home for nearly a decade, Alan runs into Walden (Aston Kutcher) who was attempting to kill himself after the loss of his wife.
Somewhat of a recluse from society, Walden is the exactly the womanizing player that Charlie was, but quickly fills the role he once played putting Alan out to his own solitude again. Buying the home Charlie used to own, Walden is quickly moving into Alan's life which is about to get a lot more complicated.
I'm not sure if Kutcher will be able to fill the strange role he's inherited, but using his weird quirky charm, he might be able to keep the show afloat for a little while longer.
Eureka
One Giant Leap…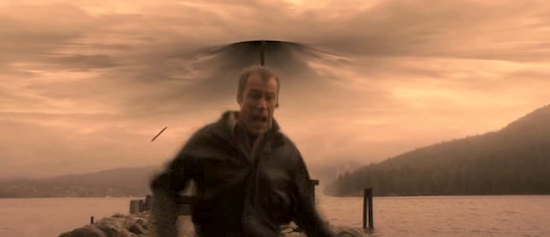 In the 4th season finale of Eureka, we finally see the launch of the Astraues, but not without a bit of typical Eureka mischief beforehand. Due to a leak in the containment of the ships FTL system, it's up to Jack and the gang to seal off random black holes that threaten to tear the town apart. This episode also marks the departure of Jo Lupo from the town, but don't fret, she will return next season in a new role.
She has to after the final events of the episode, where we leave the season with the Astraues seemingly hijacked and launched into an unknown portion of space. It's an unusually intense end for a Eureka season leaving a lot of people hanging for more. Sadly, we'll have to wait till next year to find out where the ship ended up.
2 Broke Girls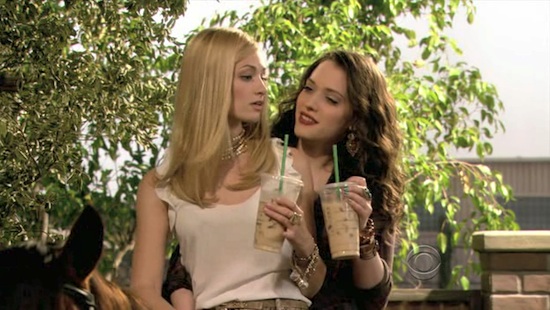 The pilot of this new CBS show actually seemed ok. The idea behind the show is that you combine one former billionaire heiress with a down to earth working class waitress and force them together through circumstance. Fortunately, the show wasn't as cliche as that as the two heroines actually had decent chemistry together and a bit of mutual respect for each other, despite their different backgrounds. Despite being unlikely friends, they end up being likable friends, and this proves to be a promising show.
Castle
Rise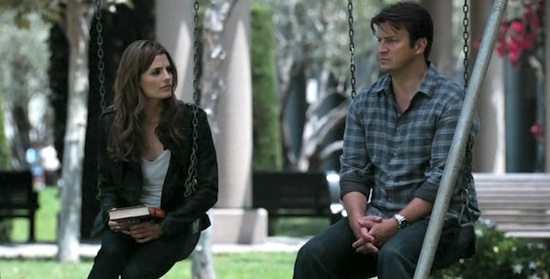 Castle and the gang are back 3 months after the attempted assassination of Kate. Emotions are a bit raw as she has basically hidden away for months cutting off all her friends and coworkers, and has a new found fire to find her mother's killer. Castle, Ryan, and Esposito meanwhile have to deal with their new Captain "Iron" Gates (Penny Johnson) who has a serious hatred for the fast and loose style of police work that the department employed back with Captain Montgomery.
I'm a little skeptical about the new Captain, as I doubt she can maintain her strict adherence to the regulations with Castle around for too long.
Hawaii Five-0
Ha'i'ole ("Unbreakable")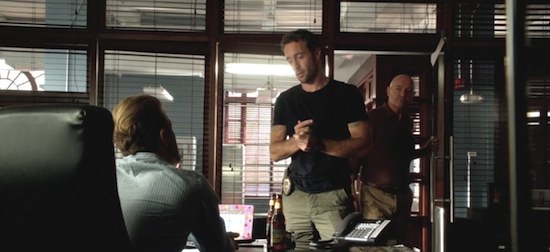 McGarret escapes from prison as he awaited trial for the murder of the govenor. Through some luck from his dad's investigation, a hidden camera in the governors office clears him of all wrong doing, and the new governor reinstates his team, though without the carte blanc that he had before. Terry O'Quinn starts a guest start stint as Lt. Commander Joe White, Steve's training officer, and we get the revelation that Agent Jenna Kaye is actually working for Wo Fat. We'll see how long it takes in the season for the team to realize they have a double agent in their midst.