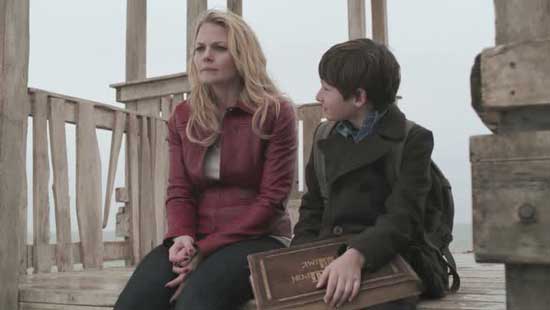 Once Upon a Time is an intriguing spin on the classic fairy tales we've grown up with for our entire lives where we move into the realm of what their lives would be like after the final "happily ever after." It's a colorful and charming show of self discovery that reminds me a lot of the style of Pushing Daises with a more dramatic and far more mysterious storyline.
As one of two fairy tale series this season, (with the other being NBC's Grimm also premiering this week), there was a lot of fear that this might be another attempt to revive the previous fairy tale style shows of the past. In truth, it felt a little like Disney's film Enchanted with characters from the fairy tale world falling into the real world, though in this version the characters don't realize who they originally were. It's also interestingly similar in premise to The 10th Kingdom from 2000, where the heroes battle to return the fairy tale land to normal.
Fortunately though, this is where the similarities end as this show is a very fresh look on the fairy tale motif. Once Upon a Time follows along heroine Emma Swan (Jennifer Morrison, House), a 28 year old bail bonds collector who happens to be the daughter of Prince Charming (Joshua Dallas) and Snow White (Ginnifer Goodwin). Sent away as the Evil Queen bears down on the new parents, Emma lands in modern America ending up in the foster care system her entire life.
Found by her given away son Henry (Jared Gilmore), and as predicted by Rumpelstiltskin (Robert Carlyle, Stargate SGU) all those years ago, Emma is destined to return on her 28th birthday to begin the final battle for the denizens of fairy tale land end the curse. It's already been stated we'll be seeing a lot of various characters from the various tales as Emma discovers her role in this quest.
Overall, the series is off to a good foot, with interesting characters and enough charm to keep viewers watching. I'm particularly interested in seeing the various different takes on fairy tale characters. Also, considering Lost writers Adam Horowitz and Edward Kitsis are the executive producers of this series, I'm sure there will be plenty of references and styles similar to their previous series appearing in Once Upon A Time (notably the 8:15 clock time already in the first episode).
With characters that draw the viewers in, a story that's intriguing enough to make you stay, and placed squarely within the strong ABC Sunday drama block to make you return, it's a pretty sure fire bet for a series and one to watch.
Other Observations
It is noted that Disney has allowed access to their properties for the show. A notable example is Grumpy whistling "Whistle While You Work" in the jail cell and Jimmy Cricket having an umbrella and whistling.
Wasn't the Evil Queen killed after she poisoned Snow White?
"Where are we going?" "Somewhere horrible…absolutely horrible…." – Which ends up being Maine.
That baby sure stayed quiet during the sword fight
For sci fi and fantasy drama fans, this show is loaded with veteran talent

Gepetto – Tony Amendola (Stargate SG-1)
Rumpelstiltskin – Robert Carlyle (Stargate SG:U)
Prince Charming – Joshual Dallas (Thor)
Evil Queen – Lana Parrilla (24)
Jimmy Cricket – Raphael Sbarge (Star Trek: Voyager)
Red Riding Hood – Meghan Ory (Sanctuary)