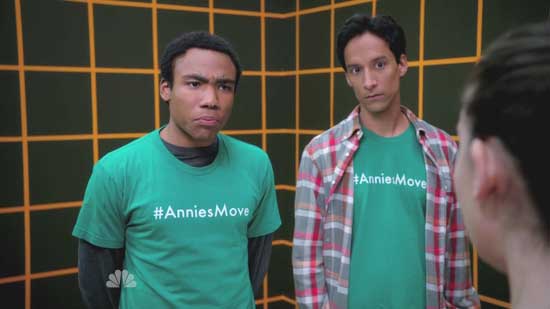 Community features another hilarious episode and Jeff's hospital lie to get out of helping is brilliant in execution. Why didn't Annie remember that Troy and Abed only live in single bedroom apartment? Unfortunately, I was out of town so I didn't get to experience #AnniesMove on Twitter in realtime, which they seem to have really blown up on. Curiously, though, it seems like they built out a lot of the actual apartment to justify a lot of steady cam work. And for the young ones, the Dreamatorium is completely decorated exactly like the Star Trek holodecks, while candy cigarettes were an old and hilariously bad product that was banned a long long time ago.
Grimm continues to move along and continues to be strong in terms of writing, though it does feel a lot like the old Buffy days. I also like the clever use of puns that the audience can catch up on if they are paying attention. For example, in this week's "BeeWare," all the bee characters are wearing black and yellow.
Glee continues to have a nonsensical plot mixed with a lot of controversy, especially this week. Have people forgotten that other characters have had their first times on the show already? Which they actually mention in the episode? Admittedly it's a very sexually charged episode, even for their standards. Also, "Put a Berry On Top" is unbelievably horrid on so many levels.
Sheldon continues his march towards super-villan status in The Big Bang Theory with a huge blue jay as a pet, albiet briefly.