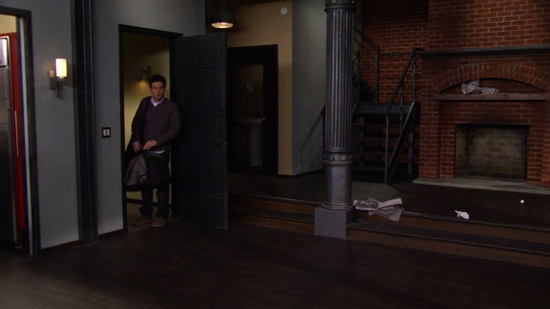 After several weeks of meandering episodes that felt not only stagnant, but also out of character of the usual writing quality, the How I Met Your Mother 8th season finale "Something New" gives fans what they've longed for for the entirety of the series, answers to who the mother is. The episode as a while, acts not just as a finale to the season, but as a massive cliffhanger for all story lines we've followed the last season. Marshal finally gets his dream job of being a judge, though he must decide how to tell Lily who is about to embark with him to Rome for a year. It's already clear that Marshal has taken the job, but it's yet to be seen how this will play out with Lily and Marvin. While we know they stay together into the future, we don't know how she'll react, and if she'll stay or leave her family behind for the next year.
Meanwhile, there was a throwaway story about one last antic with Robin and Barney breaking up a truly obnoxious couple, only to force the couple into realizing their love of each other and becoming engaged. There really wasn't much point to this story other than to provide a little bit of screen time in this finale to the soon to be newly-weds.
The real story lies in Ted and Lily's quiet heart to heart, as Ted reveals he will leave New York for Chicago the morning after the wedding, just a few days from now. In the end, Ted's deeply broken heart can only cope with the idea of losing Robin in the one way we all cope with this type of pain, we run away. Now it is unknown if Ted will truly leave after the wedding, but we do know that it's because of his decision to leave the wedding early that he presumably will meet the mother at the train station.
We still don't know the circumstances that cause him to leave. We have to assume that Ted, finally unable to overcome his sadness, leaves the wedding early, which leads us to believe that there is also some kind of falling out at the wedding due to his bandaged hand. But even right until Robin and Barney's wedding, Ted still can't shake the notion that his heart still belongs to Robin, even if he has come to terms against it. Despite this seemingly final outcome, Ted still has that glimmer of romance inside of him, working to put together a perfect gift for Robin in her lost grandmother's necklace.
On the other hand, perhaps this is the catalyst to the falling out we may see next season. The necklace could be viewed by Barney (and Robin) as one final attempt to undermine Robin's conviction and her relationship with Barney. Is the necklace really a perfect gift for Robin, or a perfect gift to made Robin think about Ted one last time?
Finally, as the final scenes roll though, we get a sneak peak at what fans have longed for over the past 8 years, the reveal of who the mother is, though we have no idea what her name is, or any specific details on how Ted will meet her aside from after the wedding. Reveled to the audience only, we finally meet "Girl with the yellow umbrella" Cristin Milioti (known for her broadway performances of Once). Now all that is left is to see the story of how these two end up finally meeting and falling instantly in love. Hopefully, the series doesn't end up on a ruined note akin to many of the recent long time serials.
Other Observations
Considering Lily has known for a long time Robin was incredibly heartbroken about Ted almost marrying Stella, it was a surprise to see Lily actually bet against Robin with Marshal.
I really hope Ted doesn't do something stupid, but knowing Ted….
Will this be 56 hours of Ted's story spread over the next 24 episodes?
The final song is The Shins – "Simple Song", a song about the reading of a last Will and Testament, adding further to the concept that this series ends in total tragedy.