Brooklyn 99 returns for it's third season with "New Captain" with new leadership, new relationships, and more of the same insanity.
At the end of season 2, we find Captain Holt (Andre Braugher) "promoted" to the public affairs office after his defeat at the hands of his arch nemesis Deputy Chief Wuntch (brilliantly played by Kyra Sedgwick). Meanwhile, Jake and Amy end up expressing their feelings toward each other during their last operation.
Season three begins with the reveal of the new captain Seth Dozerman (Bill Hader), the hilariously uptight efficiency maniac. His insane work ethic includes providing Dozer-pads to the entire team to keep tabs on when they are or are not working.
It's actually an interesting commentary (intentional or not) of a current trend in corporate environments where employers are attempting to track their employees to an obscenely micromanaged level. It's funny how it plays out in the show, with some employees working harder to beat the clock, while some are actively revolting against it.
The big surprise though is the instant camaraderie between Peralta and Dozerman over his fake charm and schmoozing. After years of failed attempts with Holt, it's a neat change to see him actively get some points with the leadership.
Of course that's short lived thanks to Dozerman catching Amy and Jake in the evidence room making out, leading to an epic freak out and eventual fatal heart attack.
While I'm disappointed Bill Hader's run on the show was literally a single episode, it was refreshing to see a different take on the precinct leadership. The 99 takes a lot of leeway in how the conduct business and Holt has always been surprisingly accommodating. With someone more strict like Dozerman, we could have seen much more in the way of shady antics to get the job done from the team.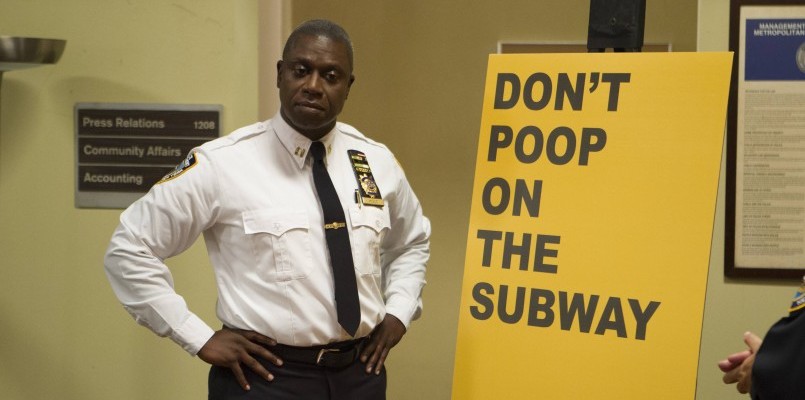 The best part of the episode though was the continuing feud between Holt and Wuntch. Sadly though, it seems like Wuntch's dominance over Holt is now complete and unquestioned. It was pretty depressing to see Holt in such a defeated mood. Wuntch's tyranny has been brutal on him and we can't help but hope he can turn things around and get what is his.
Fortunately for him, Gina follows him to the public relations department, and it's her care free narcissism that reminds Holt that he's still the man, even if it's a man in a horrific pigeon suit.
At the end of season 2, many were worried that the removal of Holt and Gina would spell doom for the 99 (and the series), but seeing Holt and Gina on their own as a pair is great character development between them. Holt and Peralta, while fun, never really gets to the seriousness and depth of Captain Holt's character, and Gina, in her insane but actually loyal way, is much better at pulling out these emotional notes from Holt.
Overall, the new season starts off with a great start, and I can't wait for more.
Other Observations
The new new captain is non other than Detective Pembroke – aka "The Vulture" (Dean Winters)
Gina Linetti, the human form of the 100 emoji.
"Linetti Set Go" "Gina in a Bottle"
"This is how it ends…me standing on the urine soaked floor of an elementary school bathroom in a third rate bird costume."
"Hope it wasn't a mistake..Title of OUR sex tape!"
"This man is a Timberlake and you need to stop treating him like a Fatone"
Holt vs Wuntch
"So nice of you to greet us, Madeline. I thought surely you'd be crushed under that house in Munchkin land." "Sticks and stones, Raymond." "Describing your breakfast?"
"I like what you've done with your office Raymond. It's cozy like the shoebox one buries a dead hamster in."