In "Boyle's Hunch" we finally get to see something positive start to happen in Boyle's love life but can he find happiness this time?
After another relationship blowup last week at the funeral, Boyle's been in quite the slump, and in all honestly, sad broken Boyle isn't all that fun and we just can't help but feel sorry for him. This is why we get the perfect woman for him in Genevieve (Mary Lynn Rajskub, 24) but there's one small catch. She's been convicted of art theft and insurance fraud. But aside from some horrifically disgusting flirtations between Boyle and Genevieve, we get a sweet and pretty funny storyline as Boyle and Jake go out and solve the case of who really stole the art.
Joe Lo Truglio is at his best in the episode with the constant stream of disgust and awkward as he waxed poetically about Genevieve, and the buddy cop dynamic between him and Samberg is the high point of the night. There's even an amazing moment where Jake even joins in with Boyle's solve the case song, just for a moment.
Meanwhile, we have a humorous but not spectacular side storyline involving Gina, Amy, and Holt working on a new PR campaign for the department. After years of negative publicity, the NYPD needs some help, and a poster featuring one of the department's finest is just what they need…or the opposite of what they need according to Gina. A few insults and a lot of poster vandalism later, we finally get to see Holt admit that he was wrong, and Gina was right.
The funnier side story was Rosa and Terry teaming up to bust the slackers Hitchcock and Scully (whom have been mostly cut the last two episodes). Stealing Rosa's ice cream is a serious offense, and like smug criminals, Hitchcock and Scully rub it in as they force Rosa and Terry to prove it, unleashing the unhinged rage of Rose that can only be contained by Terry in the first place. In the end though, despite an even more smug confession, "there are no winners here." as Rosa still has no ice cream and she can't kill Hitchcock and Scully.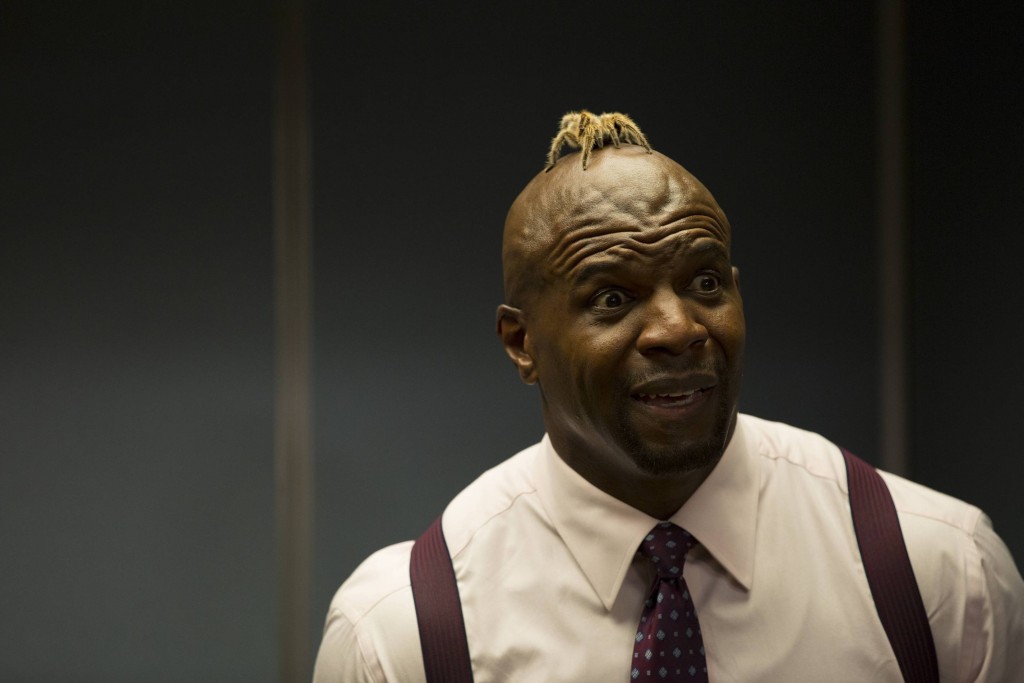 Another great fun romp in the Brooklyn Nine-Nine that takes a lot of the annoying seriousness of police procedurals and gives us some breadth and life.
Other Observations
This campaign…like 3 out of 5 backstreet boys…is inconsequential.
Somethings are just delicious enough to suffer the consequences.
My dreams are coming true…you an me, getting my lady off together.
If she farts in that thing, does it blow up like a balloon?
This week's cold open involves Terry scared of spiders, and it's amazing.
I'm the Nostradamus of your shame.