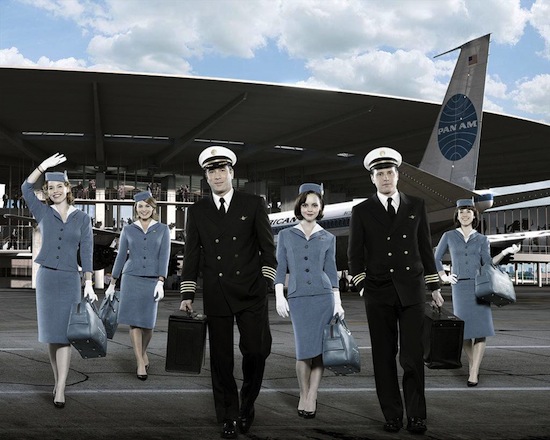 ABC brings us a whole slew of new dramas this year, including a 1960s period drama and a fairy tale drama which seems to be all the rage this season. With the demise of Desperate Housewives, ABC is wasting no time capitalizing on the standing audience to help maintain its place on Sunday nights.
Pan Am – Sundays 10/9c starting Sept 25
In another of this season's 1960s period dramas, Pan Am follows the iconic airline Pan American World Airways and the flight attendants that staff their planes in 1963. The show stars Dean (Mike Vogel), the cocky new pilot, Maggie (Christina Ricci), a rebellious professional, Colette (Karine Vanasse) the caretaker of the group, and sisters Kate and Laura (Kelli Garner and Margot Robbie) who run away from their domestic boredom to take to the skies.
Helmed by Jack Orman (ER), Thomas Schlamme (The West Wing), and Nancy Ganis (Akeelah and the Bee), the show has a heavy soap opera feel with enough flash and style to carry it though possible weaknesses in the unknown background setting. Well casted, and with a strong leaden of Desperate Housewives, I think Pan Am is a safe bet for ABC and will likely be the winner for the Fall.
Once Upon a Time – Sundays at 8/7c starting Oct 23
Another fairy tale remaining from ABC, Once Upon A Time, revolves around a small Maine town called Storybrooke, which is actually a parallel world in which fairy tale characters look like normal people but don't remember their true identities or the true lives. The show itself generally centers around the idea that Snow White and Prince Charming have a child, Emma Swan (Jennifer Morrison) who in turn has a son Henry (Jared Gilmore). After Emma gives him up for adoption, Henry seeks out his mother and brings her back into the town as she is key to saving both the Enchanted forest and the lost characters that now live in the real world.
Helmed by Adam Horowitz and Edward Kitsis, Once Upon A Time has many obvious parallels to their previous series Lost. Both Horowitz and Kitsis though emphasized that this series will focus heavily on the characters themselves, and not involve an overly complex storyline that was the downfall of Lost. Overall, the show does look very interesting, and I'd like to see how it stacks up to NBC's Grimm. Early critical response suggests it is a show to watch, and hopefully it will fill the languishing ABC Sunday night as Desperate Housewives continues its steady decline.
Last Man Standing – Tuesdays 8/7c starting Oct 11
Tim Allen returns to network television with a new comedy Last Man Standing, where Tim Allen plays Mike and follows his trials as he raises three daughters. As a successful marketing director for an outdoor sporting goods store, he spent much of his career on the road in a man's world. But now as his wife Vanessa (Nancy Travis) returns to the workforce, he finds himself in much more of a hands on parenting role dealing with the chaos of raising three girls.
There was very little information about the show available, but based on the preview, it feels similar to just about every ABC comedy they have on the air right now.
Revenge – Wednesdays 10/9c starting Sept 21
Revenge is a new ABC drama roughly based on The Count of Monte Cristo staring Emily VanCamp and Madeleine Stowe. Based in the Hamptons, Emily Thorne (VanCamp) seeks revenge on those of the town that outcast her and her family many years ago.
Based on the previews, it seems like this is just another prime-time soap opera, and an odd programing choice to cap off their popular Wednesday comedy block.
Suburgatory – Wednesdays 8:30/7:30c starting Sept 28
In her new "suburban purgatory", Suburgatory follows the exploits of a young Tessa Altman (Jane Levy) as her father (Jeremy Sisto) picks up and moves them out of the bustling New Your City to the suburbs for a better life. The move though has Tessa wondering if she has just entered the world of The Stepford Wives after she sees how 'perfect' everything is in the town.
With a Juno vibe, I worry that Tessa the main character might come across as too standoffish for the general audience, but the interesting dynamics of the town might allow for a good setting for her role.
Charlie's Angels
In a show that needs no introduction, Charlie's Angels is a modern remake of the show of same name that aired 35 years ago. Developed by Alfred Gough and Miles Millar, this remake takes place in Miami and stars Abby (Rachel Taylor) the world class theif, Kate (Annie Ilonzeh) a former Miami cop, and Eve (Minka Kelly) a street racer with a past. While Robert Wagner was set to star as Charlie in the pilot, he is no longer affiliated with the project and they have yet to announce a replacement.
There hasn't been a lot of information about this show leading up to it's September 22th premiere date, but based on what I've seen, I don't have much hope this show will make it.
Returning Shows
I still have high hopes for the return of one of my favorite crime procedurals Castle, and comedy favorites Modern Family and Happy Endings. Overall though, ABC's lineup doesn't impress me with the exception of possibly Pan Am.