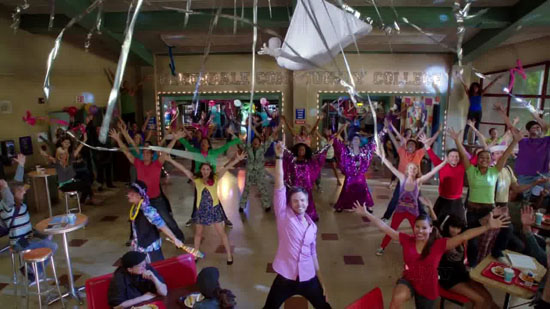 The wonderful underdog Community returns in full fashion for its third season launching with a hilarious musical number akin to the randomness that is Glee. Now while the musical number suggest that this might be a less insane year, the show quickly shows that it will defiantly be anything but less insane. Of course the whole idea of a normal year, with musical, is merely a fantasy Jeff has as they get ready for the next semester.
The biggest note is the introduction of the Vice Dean Laybourne, head of the air-conditioning repair school, played by the veteran John Goodman. With the demise of the city college dean after last seasons finale, Dean Pelton and the gang need a new foe for the season, and it looks like we'll have one in Laybourne. As a cold, calculating, malevolent businessman, Laybourne has his sights set on Pelton himself.
Back in the group, we are seeing a little bit of the fallout from last season where Pierce left the group, but of course, he returns wanting to get back in. There is a bit of a issue though as the biology class is full, and Jeff actively blocks him from getting in. There's still a lot of sarcastic level hatred towards Pierce, but it ends up being a funny role reversal later on combined with the episode motif of inclusion. After getting the boot by the new biology professor Dr. Marshal L King, PHD ( Michael K. Williams), Jeff quickly finds himself on the outside of the group looking in, just as he attempted to push Pierce out (who of course gets the first open spot on the class waiting list).
Jeff's role reversal comes to a head with a hilarious, thanks to a healthy dose of Chimpan-zzz gas, shot for shot remake of the final enlightenment scene of 2001 Space Odyssey where Jeff realizes he's on the path to turning exactly into Pierce. Backing off his anger and falling back on his internal wit to get back in, he Jeff easily finds a way back into the class, giving a symbolically appropriate blade of grass growing though his phone to the professor.
Overall, it was a very tight knit episode that wastes no time setting us up for the next year. Goodman is brilliantly evil and the group dynamic is to be off to a great start.
Other Observations
Chang is back, and now a campus security officer. "We're all going to die this year."
Dean Pelton has an office filled with Dalmatians. I counted at least 7 pictures.
Laybourne's hard core 1960s art deco office is brilliant for a villain, and unintentionally(?) hilarious as a dig towards the 1960s period revival that's going on in television this year.
"It's a scary Chang filled world out there."
"Cougertown has been moved to mid season, that's never a good sign" – which is probably true.
Inspector Spacetime
As a play to appease fans, there is a heavy foreshadowing of Jeff and Annie sleeping together this season. As it's Jeff's fantasy, you have to wonder how this will play out.
"I wonder if we can use this opportunity to baptise him" – Shirley on a comatose Abed