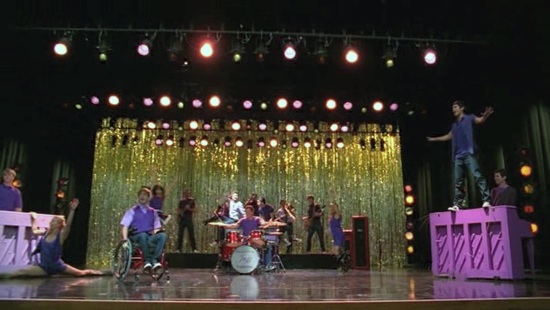 In tonight's third season premiere of Glee, we jump into the Senior year (with assorted Juniors) of the club. There are a few changes (notably casting), but a lot of the same as years' past.
Starting off, the production team has cut out Sam Evans (Chord Overstreet) from the cast, sending him off with his father who got a new job. It was an unceremonious sendoff with him not even making an appearance and his departure only mentioned in passing. It was less of a sendoff than even Lauren Zizes (Ashley Fink) got as she at least got a few lines to say she was tired of Glee and its inevitable downfall.
Bask in the choir room, we find the fledgling club short a lot of members, prompting a "purple piano" show campaign to help bring in recruitment. Of course in typical fashion, their upbeat musical numbers on campus have 100% zero effect on swaying any members, minus the hilariously awful Sugar Motta (Vanessa Lengies of American Dreams) who will have a few episodes this season.
The biggest turnaround from last season is that Rachel finally got a taste of her own medicine when she appeared at the college recruitment meeting. Finally seeing not only people who are exactly as annoyingly arrogant as she is, but also better performers than she is was a great reality check that I think she has sorely needed for a long time. I just hope that the writers use this experience to mellow her out a little bit and make her more of a team player.
With the piano project a failure (with one of the pianos being set on fire) and Will finally cutting Santana out of the group for her two-faced nature, it's up to the club to find it in themselves to carry on. While they have gained the generally disliked Blane as a new male, the club still has a long way to go to actually make nationals this year.
Other Observations
Quinn will be back soon I'm sure.
The whole Will Emma relationship is still pretty weird.
There was a funny line by Emma noting that Kurt and Rachel is one of the few relationship combinations that hasn't been tried yet.
Blaine's dance was more along the Carlton Banks version than the Tom Jones version.
Music
All links lead to the iTunes Music Store