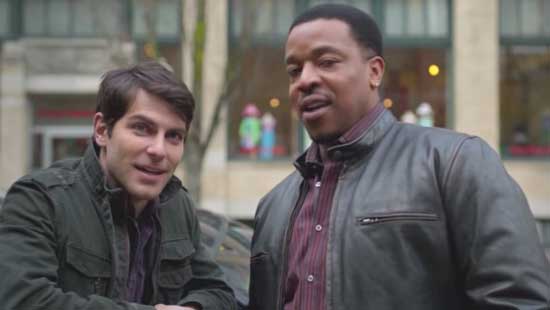 NBC's Grimm is a dark murder series where the criminals are not your garden variety bad guy, but rather mythical creatures such as wolves and demons that populate the stories of the Brother's Grimm that are in fact real creatures.
The series centers around detective Nick Burkheart (David Giuntoli), the last of a line of creature hunters called the Grimms. These were the very same Grimms that wrote the dark fairytales of old which are really true recounts of actual events. Nick, though, never grew up knowing about his family lineage, and now has to come to terms with his heritage as he starts to manifest his powers of perception of the real world.
The show itself seems like a standard crime drama with the twist that the bad guys are actually supernatural creatures. It's a very dark toned show, with dark comedic humor, similar in the vein of Buffy the Vampire Slayer, which is expected considering Buffy producer David Greenwalt also helms this series. From music selection to photography style, everything about the show reminds me of Buffy.
This may work out to its favor though, as there hasn't been a dark mystery on Fridays in some time, with the exception of Supernatural. Unlike it's ABC counterpart, there's no clear need for a resolution though, as it can easily run as a "crime of the week" style procedural. This might be the show's undoing though as viewers of this type of content prefer long serials over episodic content.
It's yet to be seen how the show will progress over the next few weeks and if the viewers will stick with the show over the long haul. It's the polar opposite of its lead-in Chuck though, and I'm not sure the fan base of Chuck will appreciate the tone and style of Grimm.
Other Observations
"I already cried wolf once, you think they are gonna believe me?" – Har har.
I'm pretty sure they pasted a generic iPhone screen on Nick's phone, which is odd considering they explicitly named the iPhone earlier in the episode by a random character.
The other foe of the show are the "Reapers of Grimms", whom have hunted the Grimms for centuries.
The title sequence is directly ripped off from Lost, which is somewhat ironic considering it's competing show Once Upon A Time was created by the Lost team.
"My folks used to tell me about you guys. Scared the hell out of me as a kid." – Eddie, the reformed wolf.
The local leader of the Reapers is none other than Nick's boss, Captain Renard (Sasha Rioz)