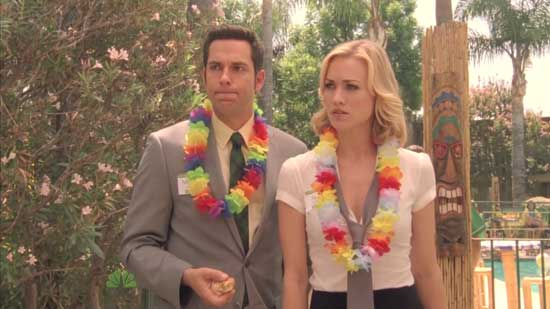 In the final part of the "Morgan as the Intersect" storyline, "Chuck vs the Business Trip" finds Chuck pretending to be Morgan to lure out a top tier assassin tasked with eliminating Morgan.
The main part of the story revolves around the continued idea that Sarah and Chuck are not a normal couple, as much as they may want to be. Sarah laments the idea of not having any real friends, despite the fact she has a huge pool of friends and family in Chuck's gang she sometimes forgets about, which is a little silly sometimes.
Overall, the episode features a moderate amount of action, balanced in a way which many of the die hard fans will enjoy. There is a lot of good teamwork between Sarah, Chuck, and Casey, and it's as if the team has gelled into what Chuck envisioned with Carmichael Industries at the start. It's a fun episode with even a little nod to the fact that it's not just the Burbank Buy More that's full of crazies, but it's every store. The other associates even call their coworkers Buy Morons as well.
It's almost as if there could have been a great jumping point for a whole short series of random insanity by the workers of Buy More's around the country, similar to the short web series Chuck did a few years ago.
With the final season of the show underway, the writers have taken every opportunity to propel the story lines forward and keep things moving at a great pace. With nothing to lose, they've found the opportunity to fill in various story lines that they have considered over the years of the show and put them in their paces in various "mini seasons" that flow from one into the next it seems. After defeating "Viper" (which seemed like a storyline that could have gone on a good chunk of the season), Casey is now headed for prison for her murder, which feels like another season end cliffhanger.
Fortunately, this mini-season will resume in a couple weeks after the Thanksgiving holiday.
Other Observations
Jeff interestingly gets rid of Lester by turning him in for attempted homicide after calling him a truly bad person.
Final Zoom, ninja star catching
"Once we identify the target, I'll move in an neutralize him." "Yeah not normal husband and wife conversation."
"Ten years at Buy More, I can't keep my face out of the cheese balls"
"Let's put our babies into a teeny tiny downward doggie." – Baby yoga. Hilarious because it's real.
Casey spoiling Star Wars for Morgan is pretty dirty.
Chuck has his head down between Sarah's legs….heh heh
"You little barbarian son of a bitch" – Casey watching Morgan drag Alex to hiding.
Chuck was actually correct in suspecting Jane was the Viper.
"I miss knowing kung fu"
Gratuitous Shot of Sarah
Sarah in her Nerd Herd outfit with the insanely low neckline.
Music
"Get Together" by Tim Myers
"Only For You" by Heartless Bastards