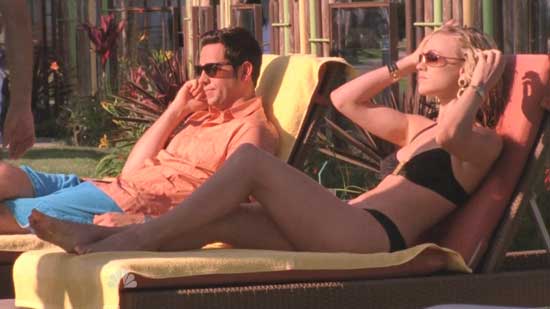 In "Chuck vs the Kept Man" we have a much lighter story with little overall danger to the gang as we see the return of Gertrude Verbanski, the latest client to Carmichael Industries.
The whole episode is pretty much filler and designed to tie up the Verbanski (Carrie-Ann Moss) storyline after he exile from her termination of the rogue agent Decker. Like many episodes this season, it has a heavy epilogue feel to it, meandering around though the plot as they spend time showcasing Casey's relationship and personality towards Verbanski. Despite being a little wandering, the episode moves along as a mostly steady pace and shows some fun interaction between Casey and Verbanski. Meanwhile, it also serves as a placeholder to start the final story arc of the series, Sarah and Chuck's impending retirement from the spy game to start a family and a normal life.
There are only 4 more hours of Chuck left, and I expect a few more similar adventures to come, especially with the final scene reveal, as the show writers throw every single unused plot line over the course of the series into these final episodes.
Other Observations
"I didn't hear you come in." "That's because I took off my heals…among other things."
"It's a sweater. Why's it so soft?" "It's cashmere." "Doesn't feel flame retardant."
"Ever since I got my brain cleaned, I've had my suspicions that something is happening here."
Lester dresses as a convincing woman, including the air machine slow mow entrance common with women in the series.
"You know how many skimpy outfits I have had to put on for this team? Did you hear me complain when I had to put on a cat suit or 7 inch platform high heals or a belly dancing outfit?"
Use the word care, I'm going to take this class, shove it down your throat, and punch you in the stomach so it shatters."
"It's not always easy to trick a mental patient."
Sarah's baby boy names. Landon, Lane, (Mark Christopher 'Big Mike') Lawrence, (Zachary 'Chuck') Levi, Lewis, Liam
Gratuitous shot of Sarah
The black two piece. Only so many of these shots left.
Music