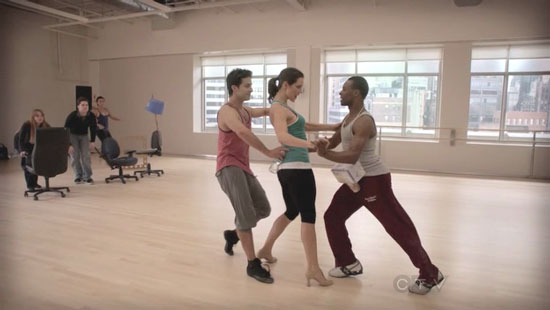 In tonight's Smash we see the audition process come to a close for the lead role, and of course that means there is plenty of heartbreak involved.
Smash is turning out to be a well paced, well written, and well acted drama that I was not expecting. Perhaps my expectations were low to begin with, but I would say that Smash has more than exceeded them with enough emotion and care that makes me long for the next episode.
In "Callbacks," we see Karen and Ivy pitted head to head (though without an actual head to head piece) for the role. The strength of the episode is that the writers give absolutely no clear indication which way they will lean. On the one hand, they tease the fact that fan favorite Karen will get the part, while on the other hand they make incredibly strong movement towards Ivy getting the part. The viewers are more than drawn in until the final moment when the winner is revealed, which plays to the strengths of the show. The fact that as a viewer, you might honestly be unable to decide (like the producers) is a testament to the balanced writing and character development of both girls. While there is obviously less Ivy on screen that Karen, you don't hate her like certain other female leads, nor do you automatically dismiss her as the antagonist.
Though Ivy is a bit more season, she's not relegated to the heartless cruel competition out to destroy the up and comer. Rather, Ivy is a seasoned veteran searching for her first real big break, and in certain ways, Karen is the outsider that can take it all away from her.
The thing about Smash is that its focus is not upon the music showcased in the series, but rather, about the people involved in the production itself. We may dislike certain people in the show, but there is a growing sense of camaraderie amongst the various cast that draws the viewer in. It also helps that the music itself is far superior than its competitor, going for original compositions that remind viewers that musical theatre still remains as relevant and enjoyable as it has been for decades.
Music