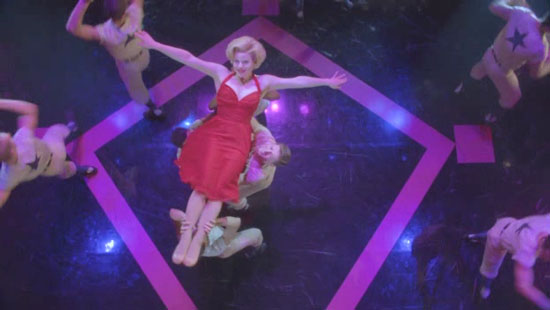 Smash is NBC's latest attempt to capitalize on the growing interest in musical based shows and the waning of the long running Glee.
With likable characters and a realistic, followable plot, Smash is without a doubt a far more interesting show than FOX's long lived original. On the other hand, Smash also risks falling into the same stylistic and storyline traps that befell the disastrous Playboy Club of last Fall.
Smash centers around the creation process of a new musical "Marilyn" which is the latest attempt to further idolize the 1950s bombshell Marilyn Monroe with a new musical. Following from initial concepts where broadway writers Julia Houston (Debra Messing) and Tom Levitt (Christian Borle), the musical takes formation over the course of the pilot as Houston and Levitt attempt to maintain control of the show that they initially did not even want to produce to begin with. Fearing the previous curses involved around anything Marilyn, including a previously disastrous attempt at a musical, Julia and Tom are cautious and careful with all their planning, and fearful of early failure and an early battery by the press core.
Further complicating matters is their choice of director, the brilliant Derek Wills (Jack Davenport), who, while looking for a new way to breakout in the industry, is a bit of a wild card and could lead the show to ruin with his womanizing ways. Also in the mix is the financially unstable producer Eileen Rand (Anjelica Huston), who is in the mist of a very nasty divorce and estate battle.
The show itself, also focuses on the favored access to play the lead role of the musical, Karen Cartwright (Katharine McPhee), a young Iowan who moved out to New York to be a star, and her primary competition Ivy Lynn (Megan Hilty), the veteran access previously favored for the role. Based on previews of the season, this aspect of the storyline looks to play out heavily as we see how competition changes the young and innocent Karen and the veteran and star-bound Ivy.
Sadly, of all the characters, Derek Wills seems like the token cliche womanizing director that needlessly becomes a plot device to build conflict in the show.
Smash itself has a laundry list of top level producers, including Steven Spielberg, as well as Tony, Grammy, and Emmy wining composer Marc Shaiman and Scott Wittman (both of Hairspray).
With such a powerhouse crew behind it, it's hard to imagine that the show could falter, and based on the very strong and well paced pilot, I'm inclined to believe that NBC might have a "smash" on their hands. Fortunately, unlike FOX's counterpart, Smash balances tasteful and popular music (as opposed to pop remixes) with a driving story that draws the viewers into the mindset of a broadway producer.
Other Observations
The show itself has no problem poking fun at the industry it represents, including a joke about how Spiderman the Musical was a total disaster "even before people were getting maimed."
Music