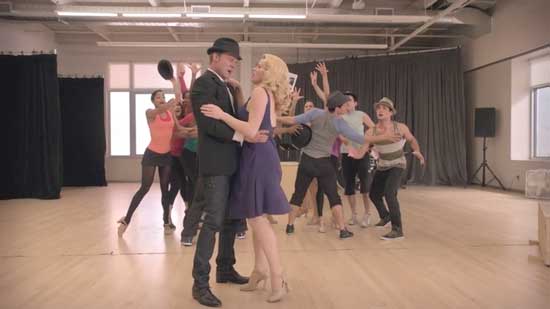 After weeks of preparation, the workshop is finally here but not without more than a few problems.
Overall, the episode was fairly strong. Centered around the performance itself, the episode revisits all of the songs from earlier in the season in performance mode with an additional few new songs added to the lineup. Musically, the episode was top notch. As a musical itself, I'm pretty interested in watching the show.
From the television standpoint, the episode felt a bit like an end cap without any real direction to what may happen next. It seems to be a problem that plagues the series as a whole. Many episodes just end on either a emotionally positive or negative notes. Tonight's episode ends without any clear indication where the musical might go after a mediocre reception and an anti-chathartic firing of Michael.
Meanwhile, we the viewers get a tease of Karen doing a demo of "Brighter Than the Sun", which while being completely amazing, felt out of place in the flow of the show itself. I'm not complaining about any chance to showcase Katherine McPhee's talent, but it did feel out of place with only the singular opening scene and no revisit.
As a special treat though, we get to meat Ivy's mother Leigh Conroy, famed Tony winning broadway star (played by Bernadette Peters, real life multiple Tony, Grammy, and Golden Globe winning broadway star) whom even does a classic number from the musical Gypsy.
In the end, the episode itself was very strong musically despite the relatively weak plot points. Almost completely dominated by Ivy, the episode's soundtrack is great and worth watching on that alone. The surprise though is Michael's rendition of the original song "Lexington & 52nd Street." There is a passion and anger behind the music that was quite unexpected and refreshing to listen to. It is a major contrast to the other songs in the musical, and the performance of Will Chase is actually quite stellar.
Music
Some Music isn't available on iTunes yet.
Brighter Than the Sun
Everything's Coming Up Roses
Let Me Be Your Star
The 20th Century Fox Mambo
Lexington & 52nd Street
The National Pastime