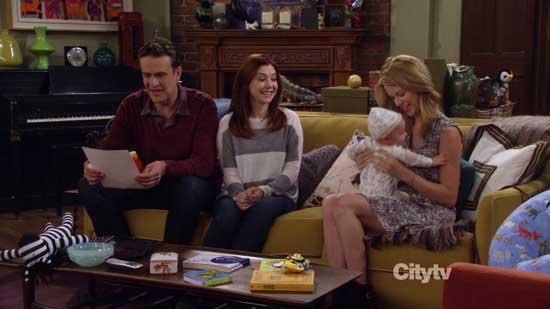 "Nannies" brings us back to a few old How I Met Your Mother staples that defined the show in it's early days.
It's been a while since we've had a good ole Barneyism creation, and this week's creation is classic Barney with the invention of "Bang-toberfest." I've missed the crazy parade of women Barney tricks, and the whole concept gives us a good look into the long underutilized and mischievous Stinson creativity.
Otherwise, the episode as a whole wasn't the strongest of fare. Ted and Robin are quickly finding faults in their respective others and it's a lot of feet dragging to the inevitable breakups they will both face. Seeing Victoria as a total slob is a bit of a surprise considering she runs a bakery, but then again work life can be very different from home life. Nick being an emotional crybaby is also a bit odd, but a perfectly wrong fit for Robin as well.
It is a bit disappointing though that neither Nick or Victoria had any real presence in this episode. Since Ted foreshadowed their departure by the end of the month, that only leaves a couple episodes to showcase their characters which has so far been very flat and one-dimensional.
As for the nanny situation, having Lily's dad watch over Marvin is pretty predictable, but I'm glad we'll get to see much more of Chris Elliot.
Other Observations
That was a giant burrito.
Did Barney really not know about the nanny network?
Mickey Aldrin burned down the house.
heynannynanny.com does exist.
Barneyisms
Bang-toberfest – celebration of all that is Barney and his return to single life.
All-Mighty-Five