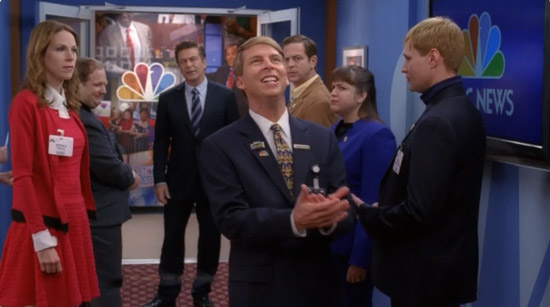 "A Goon's Deed in a Weary World" is a mile a minute homage to the crazy that is the TGS studio as we speed towards next week's series finale.
30 Rock has had its ups and downs over the last several years, but the show itself has always stayed consistent in delivering pointed comedy that more or less continuously bites the hand that feeds it, NBC Universal. You can tell the writers always derive their inspiration from their own real life work and situations, which makes for compelling, if not sincere stories, despite the fact that their stories are so far fetched from reality it borders on the absurd. Sometimes though, the writers have a spark of genius where they can just run away creating a solid block of brilliant television that will be difficult to lose after next week.
In the A plot, Liz must choose between picking up her newly adopted twins versus working to her last nerve to save TGS, despite the cast and crew's predictable manner of doing the exact opposite of what she wants them to do. With the biggest show of their lives, the writers spend all afternoon goofing off, Jenna and Tracy spend their entire day promoting their next projects, and Liz has to put off meeting her new kids for the first time to save all their jobs. Surprisingly, this leads to a great touching moment of the series, with the entire cast and crew quitting TGS to let it die for Liz. And with that, "The Girlie Show" is now done, with merely the wrap-up and final goodbyes next week.
Meanwhile, Jack and reenlisted Kenneth as a NBC Page again to provide an "non-interview final interview" tour to new potential CEOs for the company. In turn, we end up with an absolutely brilliant recreation of Willy Wonka and the Chocolate Factory. From the potential CEOs matching the characters from the story, to Kenneth's "CB Essington test of character" by offering Mr. MacGuffin wealth beyond his wildest dreams in exchange for stealing a pilot script, to Kenneth's final placement of his NBC pin on Jack's desk as he leaves the company heartbroken, it was obvious the writers had a lot of love for how they wanted to do this final transition, a transition foreshadowed numerous times though out the series.
Other Observations
The picked CEO was named Mr. MacGuffin, which is a hilarious literary joke.
"The Monkey was funny dammit!" – Reference to the short-lived and underrated Animal Practice
Liz's green screen gag is hilarious. I honestly couldn't tell it was a green screen as it was lit explicitly, framed, and shot explicitly to trick us. The only tell looking back was the fact she had an extra hair light to mask the green spill.
"You got lemon, make lemonade!"
Homonym is hilarious in any language.