Is Code Black a worthy new medical drama or does it flatline on the table?
Code Black proves one thing about television, when you stick to a tried and true formula, you can create pretty compelling viewing even if it's completely flash.
Code Black is CBS's newest media drama centered around LA County's Angels Hospital, notorious for being one of the most chaotic hospitals in the country and the subject of Ryan McGarry's documentary Code Black. In this fictional version, we follow a team of new doctors, many of whom are on their first elite ER rotation of their careers, and right from the start, the frantic nature of an ER room is evident in the frantic pace of the pilot.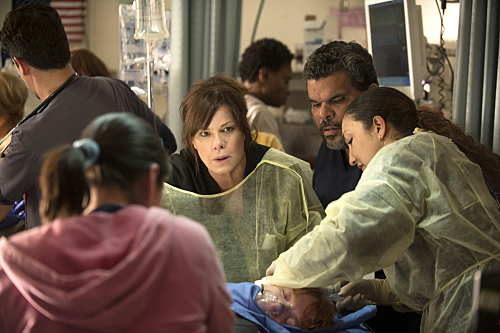 In charge of the ER is Leane Rorish (Marcia Gay Harden), a mean, generally unfeeling and unrelenting doctor that rules over the ER with an iron fist. The LA County hospital is the center point of chaos, and Dr. Rorish is the glue that forces it together whether it wants to or not. Her second in command is Chief Nurse Luis Guzman, the supportive in a completely sarcastic way that has a taste of Dr. Cox's attitude. As a counter to Dr. Rorsh, Dr Neal Hudson (Raza Jaffrey) works to question her methods and tries to remind her that there are rules to the madness versus her ends justify the means approach.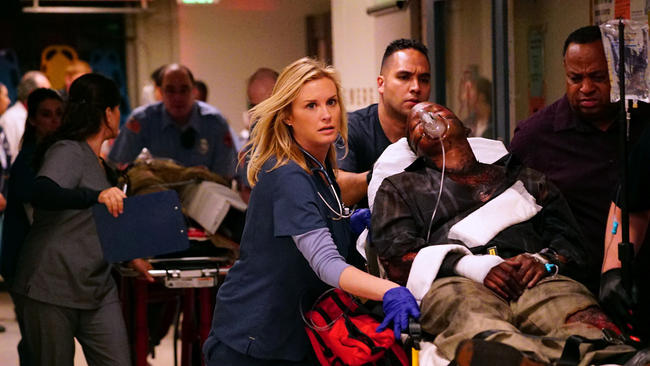 As for the first-years, we have Christa Lorenson (Bonnie Somerville), Malaya Pineda (Melanie Chandra), Angus Leighton (Harry M. Ford), and Mario Savetti (Benjamin Hollingsworth). While they are all interesting in their own right, they all seem to be victims of the show's frantic pilot. I had to look up all their names because, like many first-years, they were basically nameless faces in a sea of chaos. While we do get a lot of screen time with Christa, none of the residents really make any impression in the beginning. We have the genius (Malaya), the older one (Christa), the hotshot (Mario), and the guy in over his head (Angus).
If that seems like it's a typical cliche trope of characters, it's because it definitely is. The weakest part of this show is the pure generic and repeated nature of the show compared to any of the many medical dramas of the past with the exception that it completely lacked on any moments of drama to get to know the characters. There were some sarcastic remarks and0 a few coy flirty moments, but the show was almost completely a firehouse of medical jargon and trauma management.
One of the most annoying aspects has to be the less than subtle progressive nature of the episode, moving up from color codes of intensity until the manic "Code Black" that designates a hospital is overwhelmed past it's capacity to care for inbound patients. For a hospital that receives 300 code blacks a year, I can only expect that each and every week we'll get this same progression that the show feels like a roller coaster, slowly climbing to that crest where it speeds downward though all of the heart-pumping action to come to a rapid emotional stop at the end. And like a roller coaster, I can only imagine it will be exhausting on a continual basis.
It's hard to say how successful Code Black will be, but there is no question that the pilot was gripping. The question lies in will the rest of the season give us enough time with the doctors to really want to be a part of their lives, or just be a patient passing though.