The Grinder promises to be a fun romp that skewers every law show cliche in the book with the full level of seriousness and commitment that just brings on the insane absurdity.
The Grinder is FOX's latest comedy starting Rob Lowe as Dean, the highly successful lead actor of the popular law show "The Grinder" where he plays the most serious of serious lawyers working to defend the little guy and expose the injustice to the tune of swelling music and dramatic camera closeups. After 8 seasons, the show comes to a close, and Dean returns home to Idaho to stay with his brother Stewart (Fred Savage), an actually real lawyer that has an encyclopedic knowledge of the law, but lacks any charisma to make it as a trial lawyer.
The main premise of the show centers around Dean's desire to find the next chapter in his life after the end of his show. For 8 years, he's be committed to the extreme seriousness of the Grinder that he played on television, and now, he must try to translate back into the real world. What makes the show interesting is that despite returning home, Dean continues to behave in an oblivious way to the world, continuing to monologue un-ironically as if the cameras were still rolling and the music were still playing behind him which it does in the context of our perspective.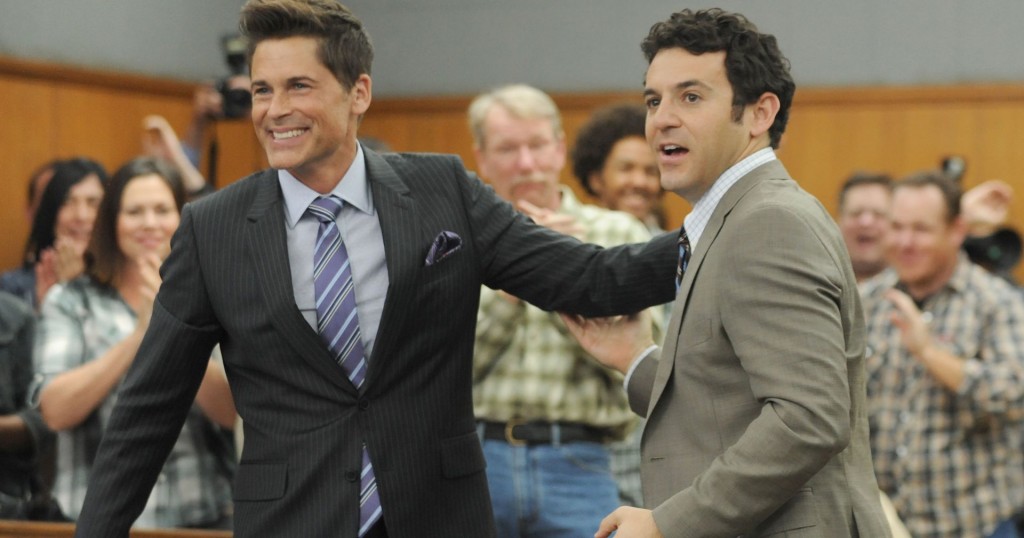 The whole while, Dean slowly encroaches on his brothers cases, using all of his cliched knowledge from his show to fight the case around Stewart, legally sound or not. It's a great insight into some of the absurdity that surrounds law procedurals as realist Stewart has to battle constantly to reign in some of the insanity.
The show reminds us of the absurdity of an actor knowing anything about the professional role they play and even goes into the argument with a thinly veiled self-deprecating joke around Noah Wyle helping you if you had a heart attack versus a random non-doctor-actor stranger.
Even funnier is the relative enthusiasm of the town, and the presiding judge, towards "The Grinder" that they simply let courtroom theatrics trump procedural decorum to build drama and suspense. ("It's what were all here for")
Rob Lowe's, and by extension Dean Sanderson's, commitment to their alter egos is the driving force behind the comedy and the absurdity of the situation and the expectation that we will see plenty of insane but all to common legal drama tricks in the episodes ahead.
Other Observations
Couldn't sleep…It's 8:30!
Turns out you were able to hurt me right to my face.
Grinder Rests.