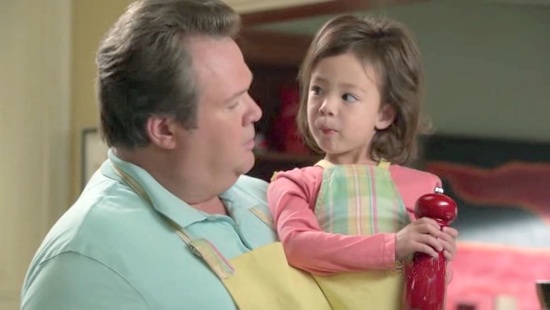 In tonight's double episode season premiere, we find our favorite dysfunctional modern family fresh off their multiple Primetime Emmy awards back at it again with their third season. There are a few changes in store this season, but a lot of what we loved from the past is still the same.
The first episode, "Dude Ranch", showcases one of the bigger changes is the write off of Dylan, Alex's long term boyfriend and constant pain in the neck to Claire. While he does get a few choice lines further infuriating Claire with his spacey behavior, for the most part Dylan stays in the background during the episode. As much as I had hoped the proposal scene where Dylan asks Alex to marry him would be more humorous, it ends fairly quickly with Claire rushing in before Alex has a chance to say otherwise. We do see a little bit of growth as Alex of before would have probably said yes, but we find that she's grown up a little and reveals she would have never done it, and breaks up with him.
It's a small bonding moment as Claire's usual overbearing motherly nature often drives Alex to rebel, but even Alex sees that Dylan is not right for her or right upstairs. In the end, he leaves somewhat dejected and becomes a ranch hand for the resort they are visiting.
Meanwhile, we see some of the Phil vs Jay tension come to a head, with Phil finally standing up to Jay and his constant berating. It's nice to see that there might be a chance that we'll see a little less of the constant ridicule, even if it was a good source of a laugh. In normal society, I don't think you can keep up that type of pace for so long before it just tears down the family bonds.
Finally, both Haley's first kiss and Mitchell's efforts to be more of a manly figure end were mostly throwaway portions of the episode. They were humorous in their own right, but they didn't have much play beyond the few scenes they had to begin with.
The real excitement of the episode though was the introduction of the new talking toddler Lily played by Aubrey Anderson-Emmons, whom replaces the twins Jaden and Ella Hiller. This new Lily s not only livelier and talkative, she has a fun deadpan delivery of her lines. Yes, the new Lily talks, and as showcased by the second episode, will likely constantly steal the scenes from her loving fathers.
The second episode "When Good Kids Go Bad" revolves around the idea of children mimicking what their parents do. We see Lily refusing to share Cameron with a potential new sibling like how Mitchell doesn't like to share…anything, and we see Claire's need to always be right, similar to Jay's outlook on life. It was a fun episode of insane family interaction that included a rare instance of Haley and Alex working together to get their brother Luke to move out of his room.
Overall, tonights episodes were a great start to another potentially award filled season of Modern Family, and I'm glad to see ABC is giving it the support it needs.
Other Observations
Dude ranch nicknames

Hollywood – Manny
Catus Flower – Gloria
Old Timer – Jay
Bossy – Claire
Buffalo Phil – Phil

Haley was reading "Freakanomics" at the pool
How did Luke sneak a firecracker on the plane?
"I wanna make the baby dead."
"The columbian necktie is a symbol of violence all over the world."
"Let's just agree to disagree." "No, I disagree to disagree" "So you agree?"
Jay hilariously checks to see if Manny is wearing the girls locket, just to be sure.
"Now he's a jewelry thief." "Might be an upgrade"
Claire put Mitchell in a dryer when they were 5 and 2 respectively.