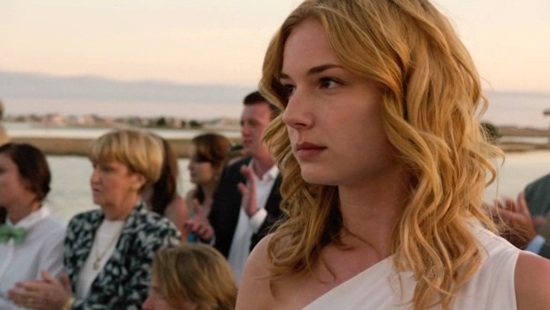 ABC's latest prime time soap Revenge is not the rosy charming quirky show wrapped in mystery that is Desperate Housewives, but rather its a dark sinister narrative that flows like a memoir of a woman consumed with hatred towards the society and the people who surrounds her.
Revenge follows Emily Thorne, aka Amanda Clark (Emily VanCamp, Brothers and Sisters) as she returns to the South Hamptons where she grew up. After spending the better part of her childhood in detention, she returns to society to learn that the hatred for her father and his crimes was falsely directed as his apparent terrorist conviction was merely a conspiracy to protect the denizens of the town with her father an unwitting scapegoat. With such a hatred now turned towards the denizens of the town, we find Amanda using her father's cunning to uproot the whole of Hamptons society as she aims to destroy the entire lot of those that wronged her family.
The show itself isn't' exactly Emmy award winning affair by any means, rather I would call it a guilty pleasure similar to the style that Desperate Housewives once was. There isn't much to the plot, other than the idea that a wrongdoing so heinous as what happened to her family can't be forgiven. This show is a soap opera through and through, with everything that makes daytime television both awful and attractive. There is mystique, backstabbing, and dark seeded allure that draws viewers in.
Emily/Amanda is exceptionally brutal as she moves to destroy the society that destroyed her family, and that is what I think can draw in viewers. Philosophical questions aside, the mystique and sheer ruthlessness of Emily as she seeks her revenge is pure shallow entertainment, and it will be a trill to see how devious Emily can truly be.
Other Observations
I'm surprised that none of the other adults recognize Emily/Amanda. It's not like she changed up her look that much. Only Nolan Ross (Gabriel Mann) recognizes her and offers his services to exact revenge himself
The flashbacks were a little confusing, but got the point across.