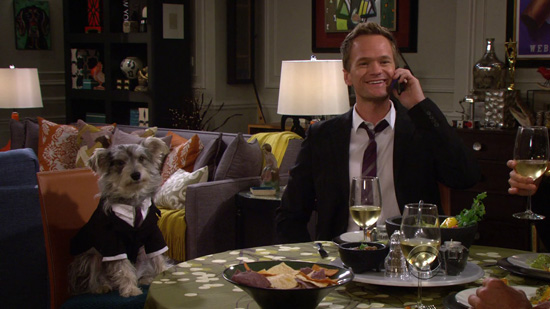 After a brief pre-emption due to super storm Sandy, How I Met Your Mother is back with the second of the three disastrous breakups for the fall.
With little air time in the last couple weeks, it is fairly obvious that it was Victoria's turn next to get the axe. It's not like it's any big secret as we already know she's not the mother and they are all breaking up by the end of fall. The whole storyline needed a merciful end as even I, a huge supporter of the Victoria's return camp, has even gotten tired of her crazy.
Most of the episode deals with Ted's growing up though, with only a slight step backwards in jumping into a marriage proposal to Victoria. He already knew that she wasn't the best for him, as there was always something holding him back. At least this time, he has grown up enough to know that Robin, despite all their history, is still his family and the true girl of his dreams would never ask him to choose between her and Robin.
Meanwhile, we get to see some of the underling loneliness of Barney manifest itself in his new wingman, an awesomely cute terrier he named "Bro-ver." It was fun to see that despite being a dog, Barney ended up with one of the best wing mans he could ever have, helping each other get the ladies eating out of palm of his hand.
Overall, "The Autumn of Break-ups" works as a character development episode, tying up the story lines a little in preparation for the end of the season. There was one bit of foreshadowing though, with the revelation that Robin does discover why Ted broke up with Victoria. In another bit was Barney realizing that Robin is his best wing-man, doing more to get him the girl than anyone else. It wouldn't be an How I Met Your Mother episode without such foreshadowing though.
Other Observations
Nick got a lot of screen-time this week, but of course he will be gone by week.
Ted is still pretty oblivious to women's feelings
"It get's exhausting constantly giving people advice they didn't ask for."
"This is what you guys do, you invite other couples over to judge them and make yourselves feel superior?" "Oh grow up, Ted. That's why any couple invites anyone over ever."
The Mosby Boys. Ted, his sister, and Squirrel-lock Holmes.
It was a super weird coincidence they showed a lingering shot of the "No Boogie Boarding" sign on the bar which was a staple from last year's Hurricane Irene episode, only to have this episode pre-empted by Sandy.
"I'm not in love with Robin, but she's like family to me. And I can't end that."
Barneyisms
Bro-ver – the most awesome terrier wing-dog ever.
Wingmaning is a two way street.
Bro-ver gets a sweet suit.
"The bitches love him. He buries bones all day. No one chases tail like him."