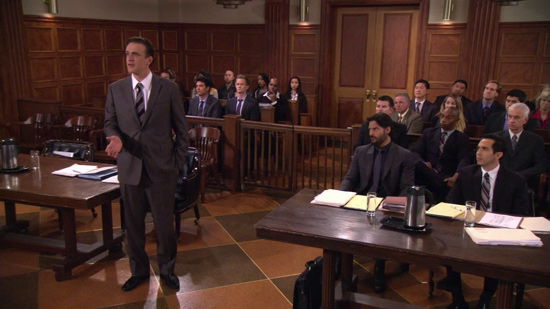 Tonight's episode, while generally weak, does provide an interesting reveal at the end about Marshal that may or may not come to anything come the end of the series.
Overall, tonight's episode was probably one of their weakest, being neither that funny or that emotional overall. Sure, there were a few funny points in the episode, such as some of the alternative realities of the gang as troublemakers in their youth, but overall, the jokes just didn't hit very well. Going on the fantasy vs reality motif, the most interesting one was probably the quick return of "Robin Sparkles" in both drunken hot mess from and "nicest most well behaved guest ever" form.
Meanwhile, the big reveal of the episode was spent around Marshal appearing to defend his actions in the courtroom after his victory against Gruber Pharmaceuticals. Unfortunately, despite his efforts, the judgment is a paltry sum and makes him question everything that he's done with his life.
Its from there (with the help of opposing council Brad defecting to join Marshal) that Marshal realizes his true calling and the real way he can affect change in the world, becoming a judge. It's there we find Marshal the whole episode, not in front of a disciplinary hearing, but rather an appointment committee.
The episode as a whole is definitely one of the weaker ones, and without the final reveal that Marshal is on the path towards the judiciary, might have been completely forgettable.
Other observations
Lily, like her story, instills fear among the area as she walks though. Could her story be true?
"You know him because you were in a nerd club together!"
We were more than bros…we were brunch bros..
It makes absolutely no sense to have an all women jury. That would never happen!
Robin and Lily are a bit hot and bothered while Brad was bending over.
Barneyisms
Barney was in a magic club as a kid.
"Baby hands"
He finally says he's done trying to win Robin, which makes her realize there's something weird with her feelings.