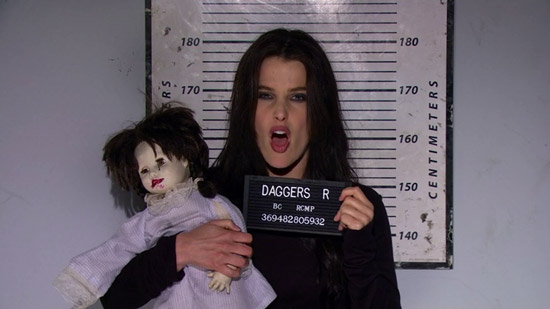 "P.S. I Love You" brings the faithful fans the fourth installment of the Robin Sparkles saga in the form of "Underneath the Tunes," a spoof of VH1's "Behind the Music."
"P.S. I Love You" is a completely silly episode that brings out all the stops to drive all the long term fans a little bit crazy. Filled with cameos of several great Canadians, the "Underneath the Tunes" was a great insight into the history of Robin Sparkles and her transition into Robin Daggers.
The whole episode hinges around the idea of fate, obsession, and the lengths we go to when we fall in love (or obsession) with someone. In stalker Ted's case, he tries to figure out who she was based on random details he remembered. Fortunately, fate seems to conspire to put Ted and Jeanette (Abby Elliot, Saturday Night Live) together, or so it seems. The true stalker is of course Jeanette, who's been stalking Ted for the last year and a half, going as far to buy the same books, ride the same trains, and set fire to his building on campus.
Ted's Dobbler-Dahmer theory does have a lot of grounds in reality, though. According to Ted, grand gestures between two people can either be charming (ala Lloyd Dobbler from Say Anything) or alarming (ala Jeffery Dahmer, serial killer). Experience would suggest that this is fairly true, with the latter being more likely. It's up to fate, though, as when we find that special one, any amount of alarming behavior to the outside will seem completely charming to each other. It's just up to us to not get a restraining order put out against us in the mean time.
Other Observations
Cameo list
Alex Trebek
Geddy Lee (Rush)
Steven Page (Barenaked Ladies)
k.d. Lang
Dave Coulier (Full House)
Alan Thicke
Paul Schaffer (Target of Robin's affection)
Luc Robitaille
Jason Preistley
James Vanderbek (returning as Simon)

Dave Thomas (as Robin's manager Chuck "Chuck" Gerussi)

"I want to see Robin throw her life away." "We're all terrible people, turn it up!"

Lily was actually stalking Marshal back in college
"Cut..it..out" "I always liked that joke." — Funny 4th wall breakdown as future Ted is voiced by Bob Saget, co-star with Dave Coulier on "Full House"
Barneyisims
Barney goes to Canada, and while their, his 1/4 Canadian heritage starts to emerge though in his speech.
Barney continues to commit crimes with Ted's tools.
Music
Of course CBS has the full music video online.